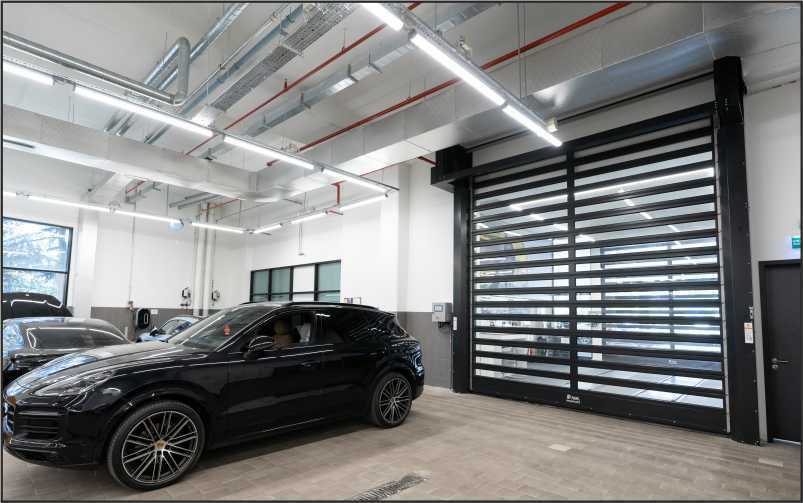 Turbo Spiral Doors
Turbo Spiral Doors : The special design of the canopy compartments contact each other in the spiral snail nest
and moves up and also down in a channel at a speed of 2.5 mt/sec. door systems. Safe and also fast inside or outside the facility. It is used to ensure traffic flow. In this way, businesses save time and also It saves money by reducing energy loss.
Aluminum Extrusion or polyurethane filled sandwich Paw Turbo Spiral Doors, which give a monolithic appearance with their panels and also aluminum pillars, are not only for industrial facilities.
Prestigious buildings with very heavy vehicle traffic with their aesthetic and also modern appearance
They ar e also used as garage doors.
With its segmented structure and also strong strut system, the door can b e closed in harsh weather conditions. Turbo Spiral Doors, which allow healthy operation, have a partition type and also
It provides Class 2 – 4 wind resistance depending on the size of the door.
Turbo Spiral Doors Specially desig-ed control unit and also up-to-date security. It is compatible with many automatic passage systems with its equipment. technological speed The opening and closing speeds of the doors can b e adjusted with the driver. Door the move
air flow, dust, humidity, noise and also image of the environment in which it s located.
Provides insulation against pollution.
Production infrastructure and PAW brand products produced CE certified by Applus, one of Europe's leading testing certification bodies.
With 40 years of industry and also customer experience, we
Ezer, which produces Paw brand automatic doors customized according to your needs
Automatic Door Systems Inc. Fast after-sales service from product selection process
Industrial, always by its customers' side from everything to support services.
has managed to become an important solution partner in the door industry.
Turbo Kapılar
PAW Speedy Aluminum Turbo Spiral Door
PAW Speedy-Aluminum Turbo Spiral Door
PAW Speedy Full Vision Turbo Spiral Door